> Donna Simpson - the world's biggest mum
> Top 10 Incredible Records Set By Women
The proud owner of the world's largest natural breasts joined This Morning today, just one month after the show received criticism for hosting exotic dancer Chelsea Charms.
Annie Hawkins-Turner, who goes by the stage name Norma Stitz, received the Guinness World Record for her 102ZZZ sized breasts, which weigh eight stone and have a cleavage that measures three feet.
Annie has made a fortune out of her entirely natural breasts by speaking to people online and posting pictures of herself.
Speaking to presenters Phillip Schofield and Jenni Falconer, she said: "I'm an entertainer. I'm your fantasy. When I talk to you I'm talking to you because there's things in your mind that you want to do to me that in reality you would never meet me.
"But I'm clearing out your fantasy. Either you and your wife are sitting there talking to me and I'm helping you with your bedroom tactics.
I teach her how to please you, and I teach you how to please her."
When Chelsea Charms appeared on the show her 146XXX breasts were the subject of 2,300 comments on the show's Facebook page before she had even appeared, and Annie was close to matching that.
Speaking of Chelsea, Annie said: "I know of her, I know she's a very nice woman, she's a good entertainer and she has some big boobies, but not like mine!"
Charms' appearance on the show was followed by heavy criticism as parents complained that the subject matter was too adult for a daytime show.
Despite this, comments made about Annie Hawkins-Turner's appearance were largely positive as fans praised her confidence.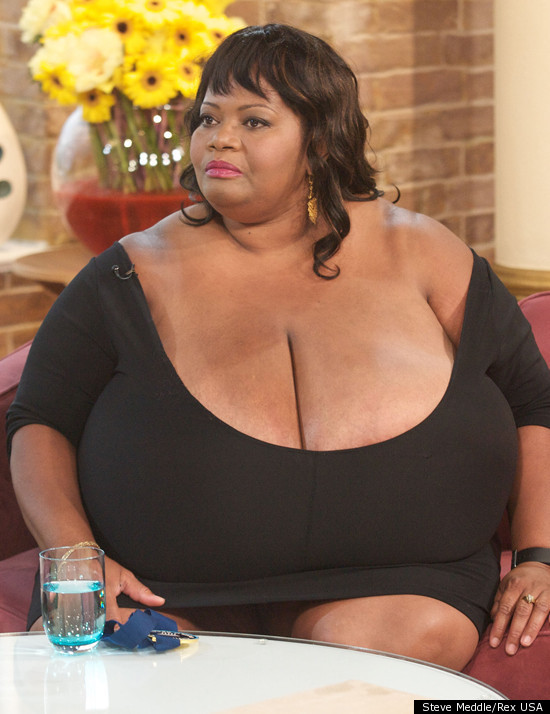 On getting her first bra when she was 10:
"I don't know what size I was. I was just big. The only thing I remember about those bras is they were cotton and they stuck out just like footballs and that's when I knew I was different. Kids are some of the worst people in the world when it comes to picking on people. I was teased a lot."
On her daily routine:
"When I go out of my house I have to think about what my day is going to be like and who is going to attack me today. Every day someone teases me that doesn't know me. They make fun of me and there's no reason. I'm human like everybody else."
On her late husband Alan:
"He turned my whole life around. He made me love myself and turned me into his Barbie doll. I was like a plus-sized Barbie doll to him. He treated me like a queen. He loved me and he loved my kids. He was my angel, it wasn't just sexual."
On the work she's done for adult websites:
"I've shown people big is beautiful and you can be sexy in your own way. It's not mucky, I'm an entertainer. I talk to you, I'm your fantasy. When I talk to you it's because there are things in your mind that you want to do to me. But in reality you'd never meet me."
Retrieved from: http://entertainment.stv.tv/tv/259762-norma-stitzs-world-record-breaking-boobs-gain-support-on-this-morning/